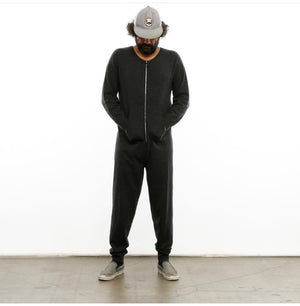 Onesie: Timojen - Men's Onesie - 100% Mongolian Cashmere
Sale price Price $775.00 Regular price
Daily luxury is enjoyed in this cozy onesie. From chilly nights on the steppe in Mongolia to chill nights on the couch in San Francisco, this cashmere onesie is your new favorite piece. Snuggle up, relax and enjoy life. 
Zipper for casual look with easy access :). This onesie is made from 100% of the finest goat hair. The goat is hand combed. The yarn is hand dyed and then the onesie is hand fabricated.
HISTORICAL NOTE - Timojen was Chigghis Khaan's birth name. It is said that Timojen was likely wearing cashmere, while he was out conquering the world.  (Chigghis Khaan - Mongolian spelling of Genghis Khan.) 
Care for your onesie by dry clean. Or wash cold with cashmere shampoo and dry flat or air drying in dryer. Do not wring or dry with any heat, shrinking will occur.
DON'T SEE YOUR SIZE/COLOR?  Reach out and we can make a bespoke onesie. Make all your own choices. This will be ordered in the next batch.  Bespoke measurement form: https://forms.gle/xAPnhvojvzJ1Qu2V6 please fill out and we will be in touch.